XO FOR SPACE 
PRODUCTS
Q-Tech is a leading provider in Space Crystal Oscillators are all radiation tolerant to at least 100kRad (Si) TID.
Our full space designs offer radiation tolerance up to 300kRad (Si) TID.
Q-Tech has introduced Multiple Output LVDS Crystal Oscillators (
QT625LW/QT697LW
), which range from 2 to 12 differential output pairs in a single hybrid flat pack.
For Low Earth Orbit (LEO) applications, Q-Tech has introduced the
QT780 series
,
QT723
, and
QT735
oscillators, which offers a minimum of 50kRad (Si) TID radiation tolerance.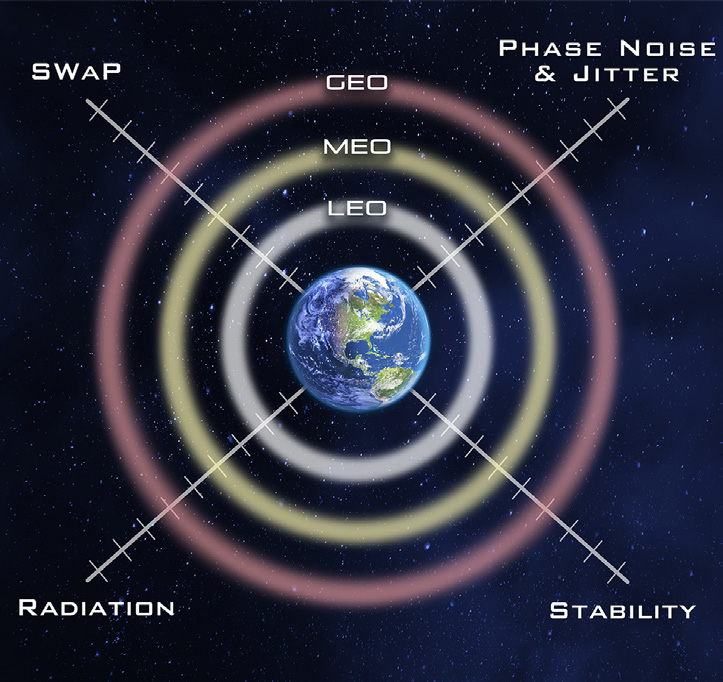 | Data Sheet | Image | Package | Dimensions (mm) | Market | Device Type | Logic Type | Supply Voltage | Package Type | Stability | Phase Noise Floor | View Outline |
| --- | --- | --- | --- | --- | --- | --- | --- | --- | --- | --- | --- |
| B+ Products | | B+ QT101, QT106, QT141, QT142, QT122, QT128, QT125, QT127, QT126, QT129, QT130, QT178, QT188, QT189, QT190, QT192, QT193, QT194, QT180, QT181, QT182, QT183, QT184, QT185, QT186, QT187 | See Data Sheet | Space | XO | ACMOS, HCMOS, LVCMOS, TTL, LVDS, LVPECL | 2.5 to 5.0Vdc | See Data Sheet | ±25ppm to ±100ppm | Contact Q-Tech | View |
| B+ Products | | QT180, QT181, QT182, QT183, QT184, QT185, QT186, QT187, QS180, QS181, QS182, QS183, QS184, QS185, QS186, QS187 | 5.00 x 7.00 | Space | 5x7 w/ 4pt Mount | ACMOS, HCMOS, LVCMOS, TTL, LVDS, LVPECL | 2.5 to 5.0Vdc | 5 x 7mm 4-Point Mount | ±25ppm to ±100ppm | Contact Q-Tech | View |
| QT2020 | | QT2020 | 25.40 x 50.80 x 8.26 | Space | MCXO | CMOS, SINE | 3.3Vdc | Dual In-line 38 Pin | ±5ppb to ±30ppb | -176 dBc/Hz @ 10MHz | View |
| QT606C | | QT606C | 22.35 x 12.83 x 5.08 | Space | XO | CMOS | 4.5 to 5.5Vdc | 14 Pin (DIP) | ±5ppm to ±65ppm | Contact Q-Tech | View |
| QT606L | | QT606L | 22.35 x 12.83 x 5.08 | Space | XO | CMOS | 3.3Vdc | 14 Pin (DIP) | ±5ppm to ±65ppm | Contact Q-Tech | View |
| QT625C | | QT625C | 15.88 x 15.88 x 3.81 | Space | XO | CMOS | 4.5 to 5.5Vdc | 20 Pin (FP) | ±5ppm to ±65ppm | Contact Q-Tech | View |
| QT625L | | QT625L | 15.88 x 15.88 x 3.81 | Space | XO | CMOS | 3.3Vdc | 20 Pin (FP) | ±5ppm to ±65ppm | Contact Q-Tech | View |
| QT625NC | | QT625NC | 15.88 x 15.88 x 3.81 | Space | XO | CMOS | 5.0Vdc | 20 Pin (FP) | ±5ppm to ±65ppm | Contact Q-Tech | View |
| Multiple Output LVDS | | QT625LW, QS625LW | 15.88 x 15.88 x 3.81 | Space | XO | LVDS - 1 to 4 Differential Outputs | 3.3Vdc | Flat Pack (FP) 20 Pin | ±50ppm to ±100ppm | Contact Q-Tech | View |
| Multiple Output LVDS | | QT627LW, QS627LW | 15.88 x 15.88 x 3.81 | Space | XO | LVDS - 1 to 4 Differential Outputs | 3.3Vdc | Flat Pack (FP) 20 Pin (Formed Leads) | ±50ppm to ±100ppm | Contact Q-Tech | View |
| Multiple Output CMOS | | QT625xL, QS625xL, QT625xN, QS625xN | 15.88 x 15.88 x 3.81 | Space | XO | CMOS - 1 to 4 Outputs | 3.3Vdc, 2.5Vdc | Flat Pack (FP) 20 Pin | ±50ppm to ±100ppm | Contact Q-Tech | View |
| Multiple Output CMOS | | QT627xL, QS627xL, QT627xN, QS627xN | 15.88 x 15.88 x 3.81 | Space | XO | CMOS - 1 to 4 Outputs | 3.3Vdc, 2.5Vdc | Flat Pack (FP) 20 Pin (Formed Leads) | ±50ppm to ±100ppm | Contact Q-Tech | View |
| QT625S | | QT625S | 15.88 x 15.88 x 3.81 | Space | SAW | SINE | 3.3 or 5.0V | 20 Pin (FP) | -200ppm to +50ppm | -170 dBc/Hz @ 500MHz | View |
| QT641C | | QT641C | 20.32 x 12.83 x 5.08 | Space | XO | CMOS | 4.5 to 5.5Vdc | 14 Pin (DIP) | ±5ppm to ±65ppm | Contact Q-Tech | View |
| QT641L | | QT641L | 20.32 x 12.83 x 5.08 | Space | XO | CMOS | 3.3Vdc | 14 Pin (DIP) | ±5ppm to ±65ppm | Contact Q-Tech | View |
| Multiple Output LVDS | | QT697LW, QS697LW | 31.75 x 41.9 x 5.10 | Space | XO | LVDS - 6, 8, or 12 Differential Output | 3.3Vdc | Flat Pack (FP) 62 Pin | ±50ppm to ±65ppm | Contact Q-Tech | View |
| QT780 Series | | QT778, QT780, QT781, QT782, QT783, QT784, QT785, QT786, QT787, QT788, QT789, QT790, QT792, QT793, QT794, QS778, QS780, QS781, QS782, QS783, QS784, QS785, QS786, QS787, QS788, QS789, QS790, QS792, QS793, QS794 | See Data Sheet | Space | XO | CMOS | 1.8 to 5Vdc | See Data Sheet | ±25ppm to ±100ppm | -162 dBc/Hz @ 40MHz | View |
| QT723 | | QT723, QS723 | 2.50 x 3.20 x 0.90 | New Space | XO | CMOS | 1.8 to 3.3Vdc | See Data Sheet | ±50ppm to ±100ppm | Contact Q-Tech | View |
| QT735 | | QT735, QS735 | 3.20 x 5.00 x 1.20 | New Space | XO | CMOS, LVDS, LVPECL | 1.8 to 5Vdc | See Data Sheet | ±25ppm to ±100ppm | Contact Q-Tech | View |
| MIL-PRF-55310/16 | | QT6T | 22.35 x 12.83 x 5.08 | QPL | M55310/16K | TTL | 5Vdc | Dual In-line (DIP-14) 14 Pin | | | |
| MIL-PRF-55310/16 | | QT6T | 22.35 x 12.83 x 5.08 | QPL | M55310/16K | TTL | 5Vdc | Dual In-line (DIP-14) 14 Pin | | | |
| MIL-PRF-55310/26 | | QT41HC | 20.70 x 13.08 x 5.08 | QPL | M55310/26D | HCMOS | 5Vdc | Dual In-line (DIP-14) 14 Pin | | | |
| MIL-PRF-55310/26 | | QT41HC | 20.70 x 13.08 x 5.08 | QPL | M55310/26D | HCMOS | 5Vdc | Dual In-line (DIP-14) 4 Pin | | | |